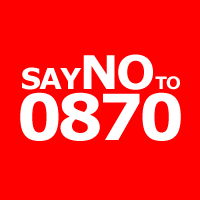 SayNoTo0870.com is a FREE directory to help you find alternatives to premium telephone numbers like 0870/0845. This websites helps you find local phone numbers (01/02) phone numbers for companies in the UK.
These calls are normally FREE on most landlines and mobile phones. Lots of UK companies use 0845/0870 numbers but costs up to 20p per minute to call. The thing that really annoys me is that these companies normally get paid for letting you stay on hold on these telephone numbers!
Its a FREE to use service. We have been using it for years. It's a great site.
GET FREEBIE
Alternative Numbers To 0870/0845

,
Visitor Comments
GET FREEBIE