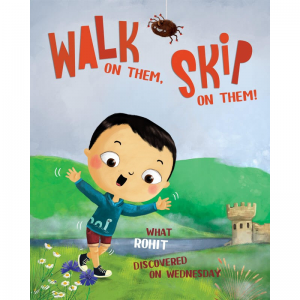 At beans&sparks you can get your first personalised kid's storybook for FREE! All you need to do is pay £1.99 for postage and packaging.
To claim, click on "GET FREEBIE", enter your child's name on their website, click 'start', then follow the instructions to personalise the character to look like your child!
If you do not wish to continue the subscription, you may cancel at any time. Limited to one book per household.
About the book:
Walk on Them, Skip on Them! explores the science of balance and movement, while discovering all the awesome things that can be achieved with two feet – or none, if you're a snake!
Understanding how the body works, and the importance of various body parts is a crucial early learning goal for children. Walk on Them, Skip on Them! encourages our little readers to experiment with all things 'feet'. Practicing these movements allows children to develop their co-ordination and control, and to move confidently in a range of ways.
beans&sparks books are designed to promote a child's natural curiosity to learn. The collection is structured using the EASY framework – Emotions, Adventure, Science and Creativity.
GET FREEBIE
Free Kids Adventure Book (Worth £12.99)

,
Visitor Comments
GET FREEBIE