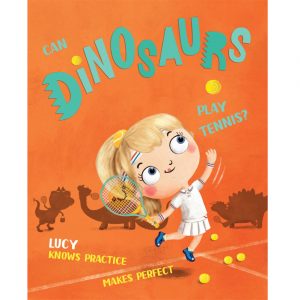 At beans&sparks you can get your first personalised kid's storybook for FREE! All you need to do is a pay £1.99 for postage and packaging.
To claim, click on "GET FREEBIE", enter your child's name on their website, click 'start', then follow the instructions to personalise the character to look like your child!
If you do not wish to continue the subscription, you may cancel at any time. Limited to one book per household.
About the book:
Can Dinosaurs Play Tennis? is a rip-roaring adventure from the beans&sparks collection that shows our little readers how much fun learning a sport or activity can be. Our hero will save the day when three rather clueless and clumsy dinosaurs show up at the local tennis court in need of some guidance.
The star of this story encourages their dinosaur teammates, helping them to learn new skills and showing them that while practice makes perfect, it's taking part that really counts.
beans&sparks books are designed to promote a child's natural curiosity to learn. The collection is structured using the EASY framework – Emotions, Adventure, Science, creativitY – and Can Dinosaurs Play Tennis? is a barmy sporting adventure.
GET FREEBIE
Free Kids Adventure Book (Worth £12.99)

,
Visitor Comments
GET FREEBIE