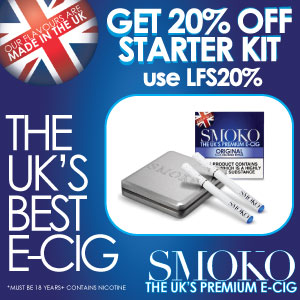 SMOKO are giving away E-CIG or VAPE Starter Kit Bundle at 20% off with FREE UK Postage. Just use code LFS20%.
The E-Cig Bundle includes Starter Kit, 1 Pack of Refills and an Extra Battery. The VAPE Bundle includes a Starter Kit and 1 Pack of Refills. Realistic smoking sensation. Super easy to use. Great vapour production. Flavours and ingredients are all Made In The UK.
Just choose which style and flavour you would like to try and then click 'add to cart' and 'check out'. Then, just pop in your details and the discount code 'LFS20%'
SMOKO has prevented over 150,000,000 cigarettes from being consumed and have helped save our customers over £60m of their hard-earned money from literally going up in smoke.
Available to new customers only. Must be over 18 years old. Limit 1 per customer. Supplies are limited. SMOKO contains nicotine and is designed for smokers only.
GET FREEBIE
SMOKO Starter Kit Bundle – SAVE 20%

,
Visitor Comments
GET FREEBIE