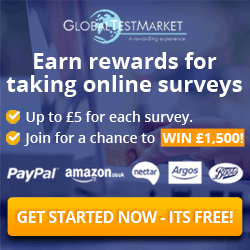 Get paid up to £5 per survey when you join GlobalTestMarket today! You'll earn marketpoints for each survey you take, which can be exchanged for cash! You also have a chance of winning £1,500 for just signing up!
To sign up click 'GET FREEBIE' and get signed up. Then start taking surveys to earn marketpoints. Once you've taken enough surveys you can cash out your points!
It's a fab little money maker, in the last year we've made £40!
GET FREEBIE
Earn Up To £5 Per Online Survey

,
Visitor Comments
GET FREEBIE