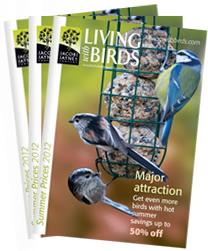 LivingWithBirds are offering a FREE 36 page catalogue packed ideas for your garden wildlife. This beautifully produced catalogue is filled with hundreds of products and gift ideas. Everything from bird feeders to wildlife nest boxes. Good read for bird enthusiasts!
To get your free living with birds catalogue  click 'get freebie'. Next fill in your name, email, and address then submit the form.
Allow up to 28 days for delivery.
GET FREEBIE
Free 'Living With Birds' Booklet

,
Visitor Comments
GET FREEBIE