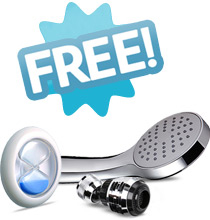 Save Water Save Money are giving away FREE shower heads on their website. These water saving shower heads are designed to cut the amount of water you use when showering without reducing the performance of your shower. Enter your postcode, select the shower head and add to basket, then checkout to order yours.
To get your free shower head click 'GET FREEBIE' and visit the Save Water Save Money website linked. Click on 'Order your freebies' and then enter your postcode. If you are eligible (depending on where you live), you'll be redirected to the website. Select the shower head and add to basket. You may order up to 2 products.
Please allow up to 28 days for delivery.
GET FREEBIE
Free Shower Head

,
Visitor Comments
GET FREEBIE