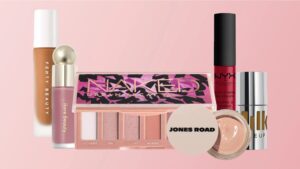 Makeup is a must-have for so many people, whether it be a daily routine, something saved for nights out, or a way to artistically express themselves, it plays a part in so many people's lives. Despite this, it can be so expensive to build and maintain a makeup collection! Not only this, but makeup has expiry dates, and using it past these dates can really harm your skin. Lots of people aren't aware of this, and there's no blame to be held, as it's really not clear! Makeup brands use symbols, rather than numbers and dates, to publish their expiry dates – so if you don't know what to look for, you're in the dark, and this can cause breakouts, increased oil production, and even infections! But it's so expensive to replace products so often! Keep reading to find out about how you can get makeup for free, because if there's something better than makeup, it's free makeup.
Have you ever heard of websites that send you products in exchange for a review? Did you know they also exist for makeup? That's right – websites will send you makeup for FREE and you just need to leave an honest review. This is a great way to build up your makeup collection, or if you already have one, replenish it and keep it up-to-date with the newest products. Writing a review should take less than five minutes, and it is also a fabulous idea as you get to influence your favourite brands, changing the products they create to be perfect – isn't that amazing? We think so.
Here's a list of the best sites to get free makeup and skincare, all tested and loved by us.
You may have heard of Glamour Magazine, but did you know that they have a beauty club? By signing up here, you can create a profile with Glamour and join their beauty club. Just answer some questions about yourself, and they will create a personalised newsletter for you and send goodies from brands like MAX, St. Tropez, Rituals and Chanel. The information you give them will personalise what products you get, which saves you hours of shopping around for something that you like!
Marie Claire's 'Beauty Drawer' also matches members to the samples they receive, so you're getting a curated collection of makeup and skincare products based on what you let their team know about you! This is a fantastic way to find what works for you, saving you time, money and effort – as finding the right products is such a long process! Every time you leave feedback increases the number of beauty products you'll receive – so for a tiny amount of your time, you'll get loads of products to try out, including full-size products!
Pinecone Research is a selective product testing site. They will send you brand new products to try, which you can keep, and pay you £3 per review! Making money and getting free makeup? Sign me up! They are selective, which means they're looking for different demographics at different times,  but it's totally worth signing up, as even if you're not selected now, you may be chosen in the future. Keep your eyes on their website, and check back from time to time to see if you're chosen!
Goss is an app full of fun games and quizzes which reward you with gems and diamonds – which you can redeem for real beauty prizes, from jaw-dropping brands like Charlotte Tilbury, Dior, Aesop, Laneige and more! It's super fun and was created by a female-led team – making it even better! The app is totally free to download, and I genuinely have fun playing the games and answering questions, it's just a fantastic perk that you can get free makeup from amazing brands!
5. Makeup Addyx
Have you heard of NYX? It's one of my favourite makeup brands. I love that they carry both essential, everyday products, alongside fun products for when I want to be bold! I was so excited when I found out about Makeup Addyx, which is their own sampling community. The people at NYX created this great app, which gives you access to their newest products before anyone else, for free! Their products are so innovative and fun, while being fantastic quality, and have been a mainstay in my collection for years. I also love Makeup Addyx as I can post my own content and follow other makeup lovers there too. It's a really great community and the exclusive makeup products made it an instant sign-up for me. 
Boots, an icon of the British high street, a shop that we've shopped at for generations, is leading the way with products at the moment. From their own brands to familiar names, to new brands from across the world, they have something for everyone. But did you know they have a 'volunteer panel'?. They're looking for people to help them develop and improve their products – so they will send you cosmetics, skincare, toiletries and more to test (and keep) in exchange for feedback on how the product works for you!
Unlike Boots, Sephora is a pretty new addition to the UK beauty scene, but it's been an important part of American beauty culture for so long, that you, like me may have been hearing about it for years! When Sephora landed in the UK, I was so excited to be able to try out the products they carry, so imagine my surprise when I heard about their product testing and rewards scheme! It's a good way to try incredible new products, both full-sized and sample-sized! Make sure you keep checking their site, as they will post new products that they want people to test! They also have a section called 'tried and tested', which is full of other people's reviews of products they have received from Sephora. Lastly, my favourite thing about Sephora's community is the fact that they will also give you 20% off during your birthday month and 10% off your two favourite brands – which can be changed every six months!
Superdrug is very similar to Boots, if you're from the UK you will almost certainly know what it is! They always have on-trend products with great deals, but they also have a product testing community! You can get so many different items from different brands – if they stock it, you've got a chance to get it! Just register on their site and you will get emailed when they have products to test. If this didn;t sound good enough, they almost always give out full-sized products too!
La Roche-Posay are a brand specialising in creating products for sensitive skin. If you're like me and have super sensitive skin, you'll know how hard it is to find good products. That's why I love this brand, and love that they have a testing community! You can easily join their 'Skin Community', and by keeping an eye on their website, you'll see what products they have for you to try for free! Even if you don't have sensitive skin, their products feel gentle yet luxurious – so sign up for this opportunity to get incredible skincare!
Straight from France, Vichy Beauty really thinks about protecting your skin alongside targeting any issues you may have. They're another brand that feel super luxurious – and I love that they have a testing panel! When you sign up, you'll be in with a chance of trying both new and well-loved products from Vichy – so you can understand why their products are so loved and be ahead of the crowd too!
—
Of course, there are always one-off freebies to be claimed, so I would recommend downloading the Latest Free Stuff app and joining our WhatsApp alerts channel for the newest freebies!
You could also join these Facebook groups, and see what people who follow us have claimed for free in the past, and share yours when you get them!
FREE Product Testing, Free Samples & Freebies UK