How To Upcycle Your Summer Wardrobe
Jul 23, 2014 - By admin in Fashion and Clothes
---
When the Summer starts, it's time for the long-awaited wardrobe change. While difficult to resist temptation and splurge on that dress you've been looking at for months, upcycling your current wardrobe maybe cheaper and easier than you thought.
Let's not deny that we've all thrown money away buying new clothes realising soon after they're completely useless, almost exactly the same thing we bought earlier in the year – I'm looking at you flowery flock – but you can't throw it away, you just can't.
And so here's the dilemma: you want new clothes for the Summer, but there's no space in the wardrobe and you've already bought things you don't wear. AND you can't really afford it.
Thankfully, LatestFreeStuff is here to help.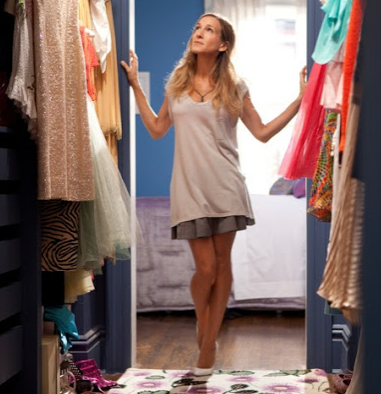 AN INTRODUCTION TO UPCYCLING YOUR CLOTHES FOR FREE
Refashioning or upcycling is all the rage. It's a cool, easy and free way to get new clothes for free, using your existing wardrobe. The beauty in upcycling your clothes is the uniqueness you can give it. Make it personal, representing your style and personality.
It also ticks Latest Free Stuff's three rules to living a good life: Learn, create and share. Making your own clothes involves learning many skills including pattern design, sewing and cutting (did you know our writer Tom Church is a suit tailor?). Creating your own clothes is hugely rewarding and you can do it mostly for free. And if you're feeling generous, you can give your clothes away to friends or family, sell them online (see Etsy.com), or teach others to do the same (uDemy.com)
Here we're going to show you three different ways to upcycle, reuse, or trade in your old clothes for something new or different.
How to upcycle old clothes into new clothes for free
Upcycling something from the wardrobe can make us proud and at the same time, is very satisfying. Go beyond the appearance and shape of what you have already, and learn to see as to what can be done.
Let's start with tops: all wardrobes are full of unloved t-shirts or tops. For Free Hunters, this is a good thing and a land of opportunity. See below for a super simple way to turn a plain t-shirt into a sexy new open back top. Simply cut slits at the back, and tie around (or leave unbound). See video tutorial underneath the photos on how to make your own open-back top for free.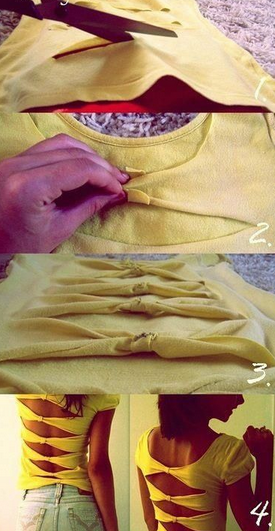 Free video tutorial on how to make your own Summer top from a t-shirt
How to turn T-shirts into a long Summer dress for free
Cut and sew a bunch of t-shirts together to form a lovely long rainbow coloured Summer dress.
Inline images 5
– Super simple, get 4 t-shirts and decide which order you want them
– Cut the tops off the second, third and fourth t-shirts
– Work down, sewing the second t-shirt to the top blouse at the naval (belly button)
– As this is your waist, pinch the front of the skirt into a pleat to help give it shape (show off those curves girl!)
– Sew the third and fourth t-shirts on as well
– Tailor to fit (make shorter or longer, and consider sewing a lining on as well)
How to turn a T-shirt into a gym-top or vest for free
No sewing required, just a t-shirt and maybe some ribbon.
Cut the t-shirt into the shape below as one piece.
Tie the back straps together to give a different shape as in the picture below.
If you're feeling adventurous, you could consider folding the freshly cut edges inwards and sewing them to remove the frays.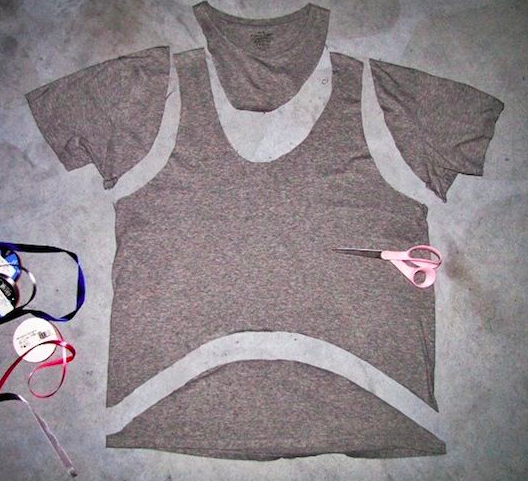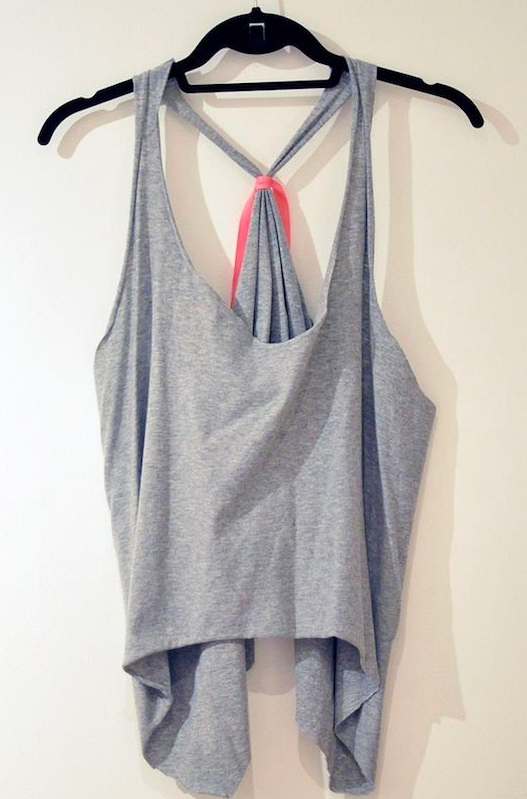 BONUS TIP: How to turn old jeans into a skirt for free
Who doesn't have an out of fashion pair of jeans in their wardrobe? Thankfully, it's pretty simple to create a mini skirt from a pair of jeans:
Cut the legs off your jeans right up to 2″ below the back pockets. Be careful not to cut the inside pocket bags.
To give a bit of shape, consider cutting an upwards curve at the sides.
Rather have a long skirt? Have a watch of this free video tutorial on how to sew a t-shirt onto the bottom of a mini skirt (as made for free above) to give yourself a free new skirt for the Summer.
Extra tips to help you upcycle your summer wardrobe
– How to turn a pair of men's jeans into a dress
– How to make a dress from a man's shirt (Video)
– 33 clever ways to refashion your clothes
How to turn clothes in other useful things 
Your clothes can find a new life as other useful items. Turn a t-shirt into a bag or a pillow from simple tricks.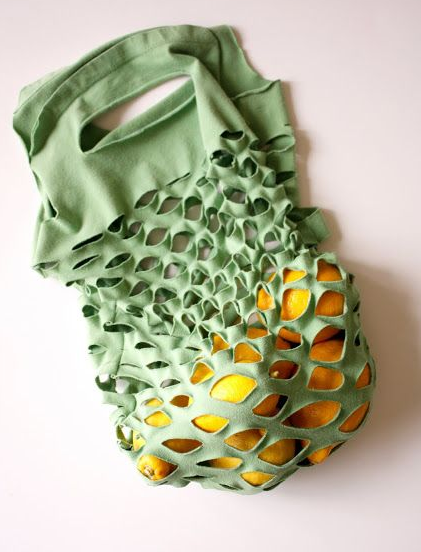 This one is a super easy to make bag, perfect for the Summer. Put inside whatever you want for a trip to the beach or a picnic in the park.
Use this tutorial to learn how to make your own Summer bag
Make your own pillows with old clothes
How to sell your old clothes
Have something in your wardrobe you just don't know what to do with? Don't have the time to re-invent or upcycle for free? Then consider a Smart Money option by selling your old clothes. Turn rags into riches by using Return To Earn, a company that will collect your clothes from your home for free, and pay you £0.60p per kilo.
Or, see SwapStyle, a website where you can trade your clothes with others.
Conclusion
Upcycling your clothes is a fantastic option to getting your Summer wardrobe for free, or at least clearing space for it without throwing things out. Learn how to sew, cut, imagine new patterns and turn your old rags into cool new items.
Who knows, maybe you can even sell them on at a premium and become a well-known designer.
Give it a go and be sure to tweet a picture to @LatestFreeStuff for a chance of winning some great related fashion freebies.
Visitor Comments