Matched betting, put simply, is a betting technique that allows you to profit from promotional deals offered by bookmakers. It is 100% legal, safe and, when done properly, is entirely risk-free. When practiced, matched betting allows you to eliminate all chances of financial loss, meaning you are able to reap the benefits regardless of the outcome. 
Matched betting enthusiasts have been able to make tens of thousands of pounds in a single year from this amazing loophole. Sounds intriguing? Read on to find out how matched betting could benefit you.
How does Matched Betting Work?
A step-by-step tutorial on how matched betting works will be the easiest way to learn. This may seem complicated, but it is definitely important to read through as carefully as you need to in order to understand the process. Firstly, it is key to differentiate between a back bet' and a lay bet'. A back bet is when you are betting on something to happen. For example, 'I bet Tottenham will win' is a back bet. A lay bet, on the other hand, is when you bet against something happening, for example, 'I bet Tottenham will not win'. The difference between these two types of bets is key to matched betting. By using maths, there is a way of placing both bets on the same event and making a profit regardless of the outcome. 
Step 1: Open your Betting Accounts
Not all betting sites offer lay betting as an option, so you will need to ensure you have an account with a betting exchange that does. Ladbrokes, Betfair, and Matchbook all allow lay bets to be placed. For your back bets, just find any betting exchange that is offering a good promotional deal. On William Hill, you can currently receive £30 in free sports bets when you place a £10 bet. Open your account and deposit the amount needed for the promotional offer. Don't worry, you will make this money back by the end of the process! Make sure you are using decimal odds rather than fractions too.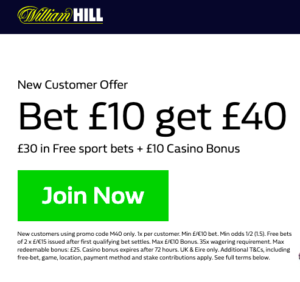 Step 2: Find your Event
Find a sporting event on your lay betting site with similar odds to your back betting site. Choose a bet with low odds, ideally between 1.50 and 3.0. Then, on your lay betting site, choose the same event and get ready to place your lay bet. The marginal difference in odds may result in a small loss of under £1; this is known as a qualifying loss. It is a very small loss that comes before a much larger gain. 
Step 3: Do the Maths
This is undoubtedly the hardest step; figuring out how much our lay bets and back bets ought to be based on your event's odds. Thankfully, the existing online matched betting community has already come up with a way to make this part of the process so much easier! You can use a matched betting calculator to figure out how much you should bet.
Step 4: Collect your Free Bets
Now it is time to use your free bet from the promotion you signed up to. So in the example of the William Hill promotion, you have £30 worth of betting to do. Essentially, using your £30 worth of bets, you can repeat this process and find a new event to place a back bet and a lay bet on. When you place the bets this time, you will end up with a profit regardless of the outcome of your sporting event. 
How Much Can I Make?
As with most things, you reap what you sow when it comes to matched betting. If you devote several hours every day to finding promotions, setting up new accounts, and placing bets, it is possible to earn upwards of a thousand pounds a month. There have been phenomenal accounts of people earning tens of thousands of pounds a year from matched betting alone! However, most people partake in matched betting as a side hobby for a few hours a week, in which case your earnings will be lower. But in any case, it is an amazing chance to earn guaranteed money fast, all from the comfort of your own home, even if you can only spare a few hours a week.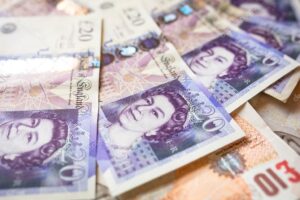 Are there any Risks Involved?
When done correctly, matched betting has no risk of significant financial loss. When matched betting, you should face no outcomes based on luck or chance. Legally speaking, matched betting is completely legitimate and permitted. Graham Sharpe from William Hill has said concerning matched betting, 'there's no illegal element. It's a free bet and you can do what you like'. Bookmakers certainly find it frustrating, since they know people are profiting whilst they are not. For this reason, if you commit to matched betting seriously you might find yourself getting banned or your bets being limited. This is not due to any legal concerns, but rather because you have been flagged up as an account holder that is continuously making money. To avoid this, place your matched bets on the same team if possible, in order to blend in and look like a regular sports fan placing bets on your local club.
If you want to feel more supported in your first steps into matched betting, companies like Profit Accumulator are there to help you. They provide step-by-step video guides on your first bets, software to aid your matched betting, and unlimited support via phone or email. When you sign up for a free trial, you will have access to all of their help and guidance, so you're guaranteed to get started on the right foot.
In terms of your credit score, betting accounts should not have an impact on your likelihood to be approved for a loan or mortgage. However, sometimes a bank statement full of transactions with bookmakers can be a red flag to lenders, regardless of how safe and secure matched betting is. For this reason, it is definitely a good idea to open a new bank account solely dedicated to matched betting finances. This way, you can keep your matched betting earnings separate from the household finances and keep yourself in the clear for any mortgage applications you might have in the future.