Facebook marketplace is a great way to find loads of things you need for cheap – and oftentimes, FREE! It's a location-based marketplace, so everything you see will be in your local area – allowing you to have the items you're looking for quickly, and if you're collecting yourself, it saves you on postage costs!
You may have purchased something from their marketplace before – maybe a new wardrobe, or some home decor – but have you ever sold anything on it? It seems daunting at first – so I've put together this handy guide to help you make a bit of extra cash for selling the things you don't need, it's free money! You can also list things for FREE!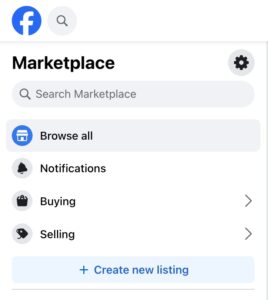 My first step, before anything else, would be joining local Facebook groups, as it's easy to cross-post your items into these groups, meaning more people will see the items you're selling, increasing the likelihood of them being sold! You'll also get to see what others are selling, and see if people are looking for anything in particular. Plus, people will post things they're giving away for free – in yard sales or just outside their house – its a fabulous way to get new (to you) things completely free. 
Click on the Marketplace icon, hit 'sell,' and then tap on the 'Create listing' button. After that, pick the type of item and snap a pic of it (you can choose as many pics as you like from your gallery), and then hit the 'Add Photos' option to upload them.

Give your item a cool title, a good description, and add on a price. Just like when you're selling in a group, make sure you describe it well and in a snappy way to catch the eye of potential buyers – think about what would make you buy it!
Set your asking price – think about what you paid originally, and then what the condition is! It might also be worth looking at similar listings on Facebook marketplace, so you can get a general idea of what people are asking for. You can also set it as free, meaning others can bag freebies thanks to you!
Choose a category for the item, so people can find it easily!
Set your location – buyers filter by distance, but it's important to use a general location, like the area of the town you live in, so people know how far they would have to travel!
Share it in the groups mentioned above! This way, people in your are can see it, and are more likely to buy or tag a friend who is looking for similar items.
When people are interested, their questions or offers will go through to Facebook messenger, so keep an eye out for any messages, and respond quickly to start a good conversation and reduce the risk of them getting the item elsewhere!
Furniture and baby items sell really well on Facebook marketplace. Any other 'bulky' items do too – kitchenwares and gardening equipment, for example. Adult clothes don't tend to do that well  – but kid's school uniforms sell exceptionally, especially if you're in local groups, where other parents who have children at local schools will be. This is all gathered from what I've seen and sold – your area may be different, but items like clothes and jewellery tend to sell better on websites like eBay and Vinted.
Make sure to take good, clear photos of the items you're selling, and use other common items to show them to scale, for example, a fork or a bottle of Pepsi. This allows people to get a better idea of what you're selling, and how it would fit in their spaces. If you can take measurements, especially when it comes to furniture, that's ideal! People are more likely to buy it and not have issues if they can see it'll fit in their houses and through their doors – there's nothing worse than buying a new piece of furniture and not being able to fit it in your house.
Be prepared to haggle too! Much like with eBay and Vinted, people will make offers, and you can agree to it or haggle to find somewhere in the middle – make sure you're being fair on both parties; don't undersell things just to get rid of them, but don't overvalue either – people use Facebook marketplace to bag a quick and local bargain, or even just for free things. 
My last tip is to be careful – if you're handing over small goods, like a TV or a lamp, try to do it in a public place to ensure safety for you both – this is a little bit more difficult when it comes to larger items such as pieces of furniture, so why not invite a friend or family member over to stay with you while the item is being collected.
I've managed to get loads of amazing things for free from Facebook marketplace, from a bedframe to bookshelves and more! In return, I've listed things for free too – it's a great process, and the more freebies you list, the more likely others are to list freebies too!
So happy selling – I hope this guide has helped to explain how easy it is to make money from selling old furniture and bits and bobs around your house, or inspired you to look out for what local freebies you can get!