Who doesn't love a family meal? You're all together, doing what you do best – eating! Although dining out can sometimes pull those purse strings just a little too hard… But you're in luck! There's plenty of places across the UK who let kids eat for free or at a fraction of the price.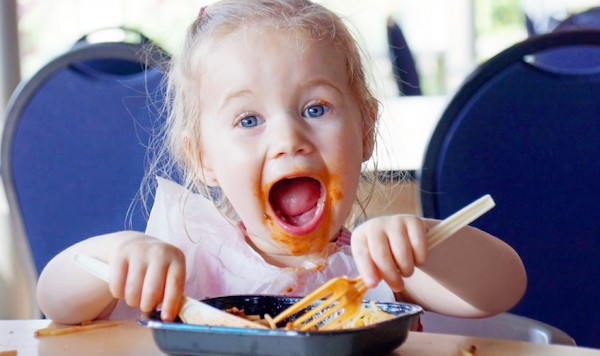 Here are just a few of the places where you can get a great meal deal for your little ones.
1. Asda Cafe
Every week, Monday – Friday from 4pm, kids under the age of 16 eat for FREE when you spend £4 in their cafe. An ideal little stop off when you're taking the kids home from school. There's also baby food pouches for the really little ones as well as baby food making facilities.
2. Morrisons
Morrisons are also purveyors in free meals for little ones, with a moreish menu of kiddie favourites available for absolutely nothing from 3pm on weekdays. All you need to do is spend £4.50 yourself, and you get a kids main meal for free at Morrisons. Treat them to tasty pizza, penne bolognese, sausage & Yorkshire pudding, fish fingers, and lots more!
Until 10.30am every day, if you buy yourself a Premier Inn Breakfast (£9.950) from a Beefeater Grill Restaurant, up to two under-16s eat for FREE! They can choose from eggs how they like them, toast, hash browns, sausages & beans, as well as fruit, cereal, yoghurt and fresh juices. Delicious!
Like the offer above, you kids eat breakfast for FREE any day of the week until 10.30am if you purchase breakfast (£9.50) at one of their restaurants. Kiddies can get all the usual breakfast treats, like bacon, eggs and all that lot, as well as freshly baked pastries. This is a fantastic offer, it would be a waste not to use it!
This, as the name suggests, Greek restaurant offer families FREE kids meals for those under 12, including a drink and luxury ice cream/sorbet, when you spend £10 at their eatery on Sundays. For this offer, you can choose chicken, lamb or beef meatballs, halloumi, OR a 3-piece children's mezze selection – it sure will be a treat for the tastebuds!
6. Bella Italia
With each adult main meal purchased, a child can get a free kids main meal at Bella Italia. This includes piccolo and grande meals, so you're sorted whatever their appetite. A fantastic offer at this firm family favourite.
7. Hungry Horse
For just £15, you can get their 8 Mini Burger Bundle! This includes 8 burgers (4 beef, 2 chicken, 2 fish), 20 onion rings, 4 mini corn on the cob, fries, baked beans AND a huge delicious dessert to share! On Saturdays and Sundays, you can also indulge in their Treat the Family deal, which has pizza, chicken and pub fave meals at bargain prices.
For every adult main course purchased, one of your kids can eat for just £1 between the hours of 3pm and 7pm Monday – Friday. Phwoar, that's a good deal. If your children are a little older, you can also get two main courses for only £8.50 after 12pm – close Mondays to Fridays.
Right, that's it for now – hope you all enjoy your free grub!